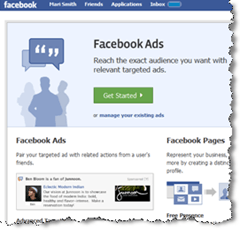 Next week will see Facebook being to roll out direct marketing ads which target consumers via their email addresses and mobile phones.
This ad merger will allow advertisers to combine their contact information lists which they may have already acquired, with the details stored on Facebook.
By comparing lists of information businesses will be able to target the customers they are already in contact with, but instead of emailing them themselves they will be able to place ads straight onto their Facebook pages and newsfeeds.
This gives an increased value to the marketing spaces business may wish to purchase because they will know that they are only targeting previous customers, or a list of people from a specific target group.
Interaction with features such as a brand page can be incredibly high, making this form of marketing especially effective.
How receptive consumers will be to having their pages targeted because they've on a contact list may be a very different issue.
How happy are you going to be when your Facebook Profile becomes invaded? Let us know what you think….