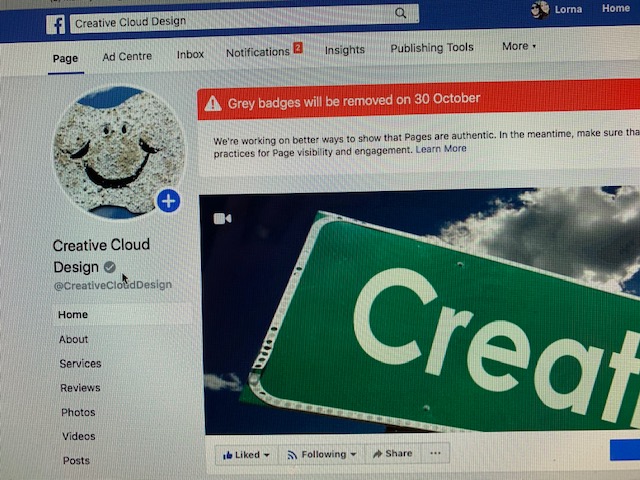 Facebook removing gray verified badges from Small Business Pages.
Facebook is removing the gray verified badges meant to show Page authenticity beginning on October 28th, page owners will begin seeing notices via their Page this week.
Facebook says….
"Based on feedback, we're removing the gray badge and focusing on other ways for businesses to show their authenticity on Facebook," said a Facebook spokesperson.
The grey badges, which were gained via an application process, were primarily used by SMBs to prove their Page's legitimacy and were available to page owners from 2015.
Why we should care!
We believe over the last five years Facebook has been making small business pages harder and harder to be found. The gray verified pages offered small businesses an easy way to very their Page actually belonged — and was being managed — by the company, same as Facebook's blue verified badges work for public figures, media companies and brands. Now that the badges are being removed from the platform, marketers will need to put forth extra effort to prove their Page's authenticity — and keep an eye out for any other Pages claiming to be connected to their company.
Whats the solution?
Facebook has decided that to prove Page authenticity for small/medium companies going forward, Facebook recommends Page Admins make sure their Page profile is complete with up-to-date with information, a profile picture and correct contact information. It also encourages Page owners post regularly since an active Page shows the company is still in business.
Facebook Say…
That their decision was based on feedback from users who were unclear what the gray badge represented.
This update will only apply to gray verified Page badges on the platform.
They have decided that Facebook's blue verified badge for public figures, media companies and brands will remain.
We believe it has never been so important to make sure your Facebook business page is up to date and best representing your Companies online identity. Pages without regular activity could easily now be misinterpreted as an old company or false company and possibly removed!
Don't let your hard work go to waste!
Need help or advice about your Facebook Business Page Contact Lorna@creativeclouddesign.co.uk